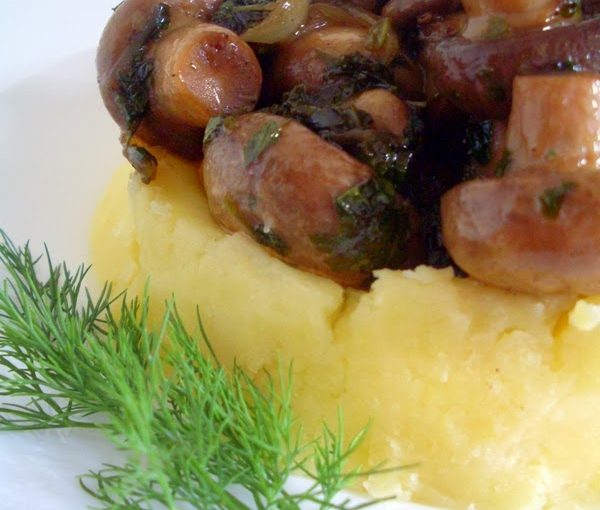 Posno
MARINIRANE PEČURKE po receptu Gordona Remzija
Uspešnog i nadaleko poznatog gospodina Remzija nisam prihvatila na prvu loptu, što bi rekli. Mada, ruku na srce, retki su oni koje ja tako prihvatam. U doba kada se kod nas počeo pojavljivati i kada je ovaj delić zemaljskog prostora u severnoj hemisferi saznao za njegove uspehe bio mi je samo još jedan liku u nizu onih koji kulinarstvo umeju da unovče. Pratila sam ga, moram reći i uvek bih na kraju donela isti zaključak – ovaj vredi, samo što je malo više pod gasom, za moj ukus. To i jeste, izgleda, bio jedan od glavnih razloga zašto sam tako dugo studirala ovog Remzija. Nismo se poklapali ali opet smo, u suštini, bili slični. Nemojte ovde pomisliti da sebe poredim sa majstorima i kulinarskim veličinama, pogotovo tako visprenih i okaljenih u poslu kao što je Remzi.Uvek sam se pitala, zašto ne mogu da dam konačan sud oko tog Remzija? Čoveče, prođe toliko vremena, a ja i dalje čoveka posmatram bez ideje gde u mom svemiru on pripada. Uglavnom, prvi utisak kod mene je ono što preovlada i nikada se (do sada) nisam prevarila, iako sam u stanju da uprkos lošem prvom utisku mnogima pružim šansu. Ali, nikada se nije isplatilo. I, nakon toga mi se obrati unutrašnji glas koji kaže: "Pa, znala si. Sama si kriva što si išla protiv sebe".
Da li je taj Remzi toliko nesvarljiv da mi je loše od njega? Nije, naprotiv. Cenim njegovu disciplinu i nepokolebljivost. Da li mislim da preteruje u testiranju/obuci kandidata u svojim emisijama? Nikako. Na prvi pogled to je nepotrebno ali suštinski je preko potrebno. I, sama sam nekada kao diktator u kuhinji. Ne bih znala reći zašto. Kod mene ima vike, bunim se ja (k'o Grk u turskom zatvoru) kada mi neko nogom kroči u kuhinju a da to nije najavio ili se prihvati nečeg u toku mog rada za kuhinjskim pultom bez mog prethodnog znanja, organizacije i odobrenja. A, ne dao mu Bog da mi zauzima ringlu na šporetu dok ja kuvam ili mi nestane omiljena daska za seckanje baš kada je peršun došao na red! Da li je Remzijeva kulinarska škola toliko daleka i različita od one slike koju ja imam o istoj? Ne, baš mi je inspirativan. Da li mi je odbojan, kao lik? Nije, mada nije ni previše simpatičan. Ok je. Pa, šta je onda? Zašto mu nisam odredila stranu? I, tako su me ista pitanja ganjala nedeljama. Sve dok jednog dana nisam došla do rešenja – suštinske stvari koja određuje stranu u kulinarstvu – isprobati neke njegove ideje, recepte.
Oprobala sam dosta recepata po Remzijevim uputstvima i svaki je bio pun pogodak. Moj kriterijum za ocenu nečijeg kvaliteta ukuvarskom smislu jeste "napravi savršenstvo na svedeni način". Naime, ako od par sastojaka i ne mnogo zahtevnu obradu namirnica napravi savršenstvo i balans ukusa – zna šta radi.  Dalje je sve nadogradnja. Ako neko u "prostim" receptima dobije moje poštovanje, nadalje ću ga pratiti i isprobavati recepte. Neću vas dalje držati u neizvesnosti, pripremala sa marinirane pečurke po receptu Gordona Remzija. Od tada do danas gospodin Remzi ima moje simpatije, kao Šef, uspešan poslovni čovek i čovek od zanata. Chef Ramsay, you have my respect!
Ovaj recept je odličan odabir za one koji vole brzo i ukusno. A, ja ne bih bila ja, kada nešto ne bih "doterala po svome", što inače volim da i drugi rade kada su recepti koje ja predlažem u pitanju.
Potrebno: 600 g sitnih šampinjona, 4 supene kašike maslinovog ulja, 2 čena belog luka, 1 mala glavica crvenog luka, so i biber prema ukusu, ½ ljute papričice (feferone), 1 dl jabukovog sirćeta, 1 veza peršuna (bez stabljika).
Priprema: Šampinjone očistiti četkicom ili vlažnim sunđerom. Širi tiganj ugrejati, pa usuti ulje, dodati nožem zgnječen beli luk i propržiti dok nedobije zlatnu boju a zatim ukloniti. Tada, odjednom dodati šampinjone, začiniti ih i propržiti. Temperatura neka bude na najvišem stepenu. Pečurke dinstati, uz redovno mešanje/drmanje tiganja oko 10 minuta. Zatim, dodati na rebarca seckani crveni luk i feferonu, pa nastaviti sa prženjem još 5 minuta. Zatim, kada skoro sva voda koju su šampinjoni pustili uvri, dodati sirće sipajući ga uz obod tiganja i sitno isečen peršunov list. Isključiti ringlu i ostaviti da pečurke još malo krčkaju, kako bi se ukusi sjedinili. Služiti uz krompir pire i dekoraciju po želji.
Napomena: Navedene količine su za dve porcije. Dodatak belog luka, feferone i peršuna je moja izmena Remzijevog recepta (može i bez nje). Za pire krompir, opet moja želja, mislim da je fantastična dopuna jer sve sokove iz pečuraka pokupi i učini da ovo, ako može, bude bolje.