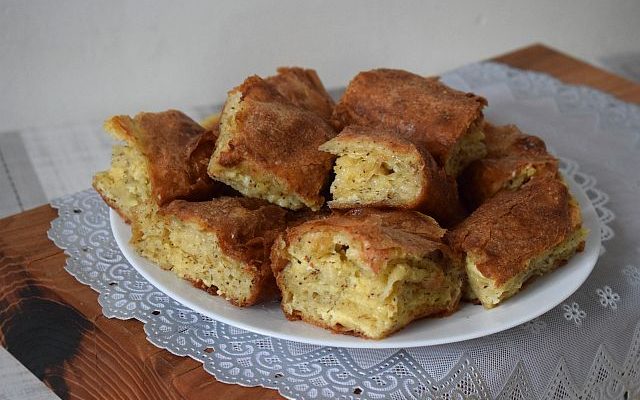 Toplo predjelo tipično za našu kuhinju jeste gibanica. Teško da ima čega lepšeg od domaćinske, tek ispečene, pite sa sirom. To je ona hrana koja se može nazvati hranom za utehu tj. ona koja vraća u život. Ništa jednostavnije za pripremu, a bogatije ukusima od kojih, malo je reći, polude sva čula. Naročito volim gibanicu sa heljdinim korama, jer taj ukus se ne može porediti sa klasičnom gibanicom, ako mene pitate. Naravno, ako vi niste ljubitelj heljde uvek je tu klasika u kojoj ćete podjednako uživati.
U našoj kući gibanica se priprema uglavnom u sveža, zimska, jutra ali i tokom letnjih noći (čitaj: sedeljki i zezancije sa prijateljima). Što se mojih navika i ukusa tiče, retko kad uz gibanicu pojedem neku salatu ili mlečni proizvod – jedem je "na golo". ☺ Međutim, ako volite da nečim presečete jačinu arome koju pruža gibanica sa heljdinim korama, preporučujem vam da to bude kiselo mleko. Tokom letnjih dana gibanicu obožavam da poslužim sa

salatom od pečenih paprika i belog luka

tzv. belolučanom paprikom. Ti momenti mi uvek prijaju i vrate mi neku neopisivu prijatnost, radost i mir u grudima. Gibanica je jedna od onih stvari koja može da me uteši, čak i onda kada nisam svesna da mi je uteha potrebna.
Zato, bila ona sa heljdinim korama ili ne, gibanica je hrana koja je oduvek i najverovatnije zauvek vrlo bliska mom srcu – te je rado pripremim i još radije smažem.

Potrebne namirnice:
(odštampaj recept)
½ kg heljdinih kora za pite
Nadev
400 g sjeničkog sira
2 jajeta
Preliv
200 ml mleka
150 ml kisele vode
3 jajeta
I još
150 ml ulja
Način pripreme:
Kore razlistati.
Nadev
Sir izmrviti viljuškom, pa u to dodati jaja i sve dobro sjediniti.
Preliv
Penasto umutiti jaja, dodati mleko i kiselu vodu, pa sjediniti što bolje.
Finalni postupak
U pleh staviti dve kore, pa rasporediti malo nadeva. Zatim, postupak ponavljati sve dok se ne utroši materijal. Znači, red kora, pa red nadeva. Gibanicu završiti sa dve kore, bez filovanja. Ušuškati gibanicu tj. višak kora podviti pod već naređane slojeve. Tako složenu gibanicu iseći na parčad željene veličine (npr. kockice, 5×5 cm) i ravnomerno preliti umućenim jajima sa kiselom vodom i mlekom. Ostaviti gibanicu sa strane (desetak minuta), koliko da kore upiju tečnost. Za to vreme ugrajti ulje (potrebno je da se oseti miris dobro ugrejanog ulja), pa vrelim uljem preliti zarezani prostor među parčićima. Peći u dobro ugrejanoj rerni na 220ºC oko 35 minuta.